2005 Sonoma County Syrah- Sorry! Sold out!
---

2005 Sonoma County Syrah
Vineyards:
40 % Unti Vineyards, Dry Creek Valley, Spacing: 6X4, Yield: 2.8 T/acre.
60% Ramozzotti/Pigoni Vineyard, Alexander Valley, Spacing: 8X10, Yield: 5.5 T/acre Planted 1995.
The densely planted vineyards are meticulously farmed with low yields and careful attention to every detail that can enhance wine quality.
Price: $28.00
Harvest Dates October 10 to 12, 2005
Sugar at Harvest: 24.5 Brix
Fermentation: Open top fermentation with three Punch-downs per day
then pressed when dry.
Barrel aging: 15 Months
40% New French & American oak
60% 3 & 4 year old barrels
Analysis:
Alcohol: 14.5%
PH: 3.48
Total acid: 0.59
R.S.: Dry
Bottling date: 5-1-07
Cases produced: 234
Release Date: 8-1-07
Winemaker notes: The '05 Syrah is dense, dark and full bodied with some plumy fruit and vanilla. With flavors of blackberry and licorice, the wine is rich and chewy in the middle finishing with big, fleshy tannins.

- Paul Brasset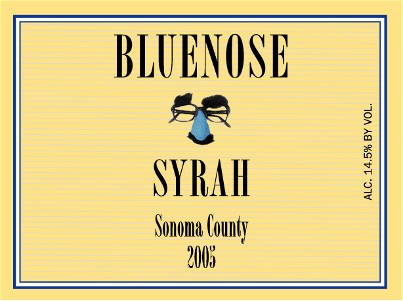 Press Democrat: Four stars --"A vibrant showy Syrah. Notes of blueberry, ripe cherry, mineral and spice. Integrated tannins"